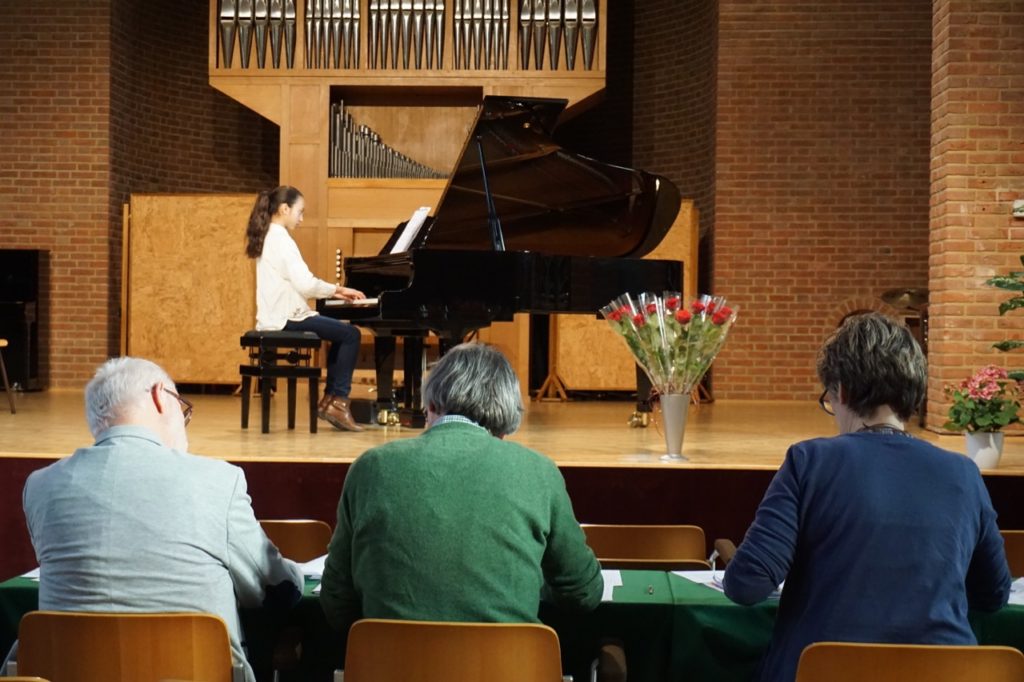 For every student who wants to know what his / her pianistic and music-theoretical level is, there is the possibility to participate in the National Grades Exam Piano (LGP) of the EPTA. EPTA Nederland is an association of professional piano teachers and pianists, with the aim of increasing the level of piano playing and piano education. In contrast to the grading exams of the local music schools, the requirements of an EPTA grade examination are the same throughout the country. This has finally set a standard so that everyone in the Netherlands talks about the same level at the same degree.
The EPTA degree exams are divided into the following levels of increasing difficulty:
A1 – A2 – B1 – B2 – C1 – C2 – D1 – D2 – E1 – E2 – F
If the student wants to take an LGP exam, he will be prepared for both the practical and the theoretical part of the exam.
Graduates
2022
In 2022, live degree exams could be taken again at the Lanaken Academy. This year's successful candidates are:
Rick Scheer – B1
Finn de Veen – C1
Thian van Dijk – E1
2021 Online-exams
The candidates recorded the playing pieces and technique assignment on video. These were submitted to the EPTA and then assessed by 2 examiners. They also passed a theory exam.
This year's graduates are:
Rick Scheer – A1
Lisa Brakelé – A2
Duru Yüksel – A2
Finn de Veen – A2
Eda Sakarya – B1
Victoria Temel – B2
Alyssa Temel – B2
Thian van Dijk – C1
2020 Cancelled because of Covid-19
The candidates who prepared for the exam were: Lisa Brakelé (A2), Duru Yüksel (A2), Eda Sakarya (A2), Serena Zheng (B1), Alyssa Temel (B2), Victoria Temel (B2), Thian van Dijk (B2) and Irene Kramer (C1)
2019
Sophie Luja – A1
Lisa Brakelé – A1
Duru Yüksel – A1
Dewi de la Roy – A2
Jens van Putten – C1
2018
Dewi de la Roy – A1
Victoria Temel – B1
Alyssa Temel – B1
Esmée van Mierlo – B1
Lies Hodes – C2
2017
Victoria Temel – A2
Alyssa Temel – A2
Irene Kramer – A2
2016
Victoria Temel – A1
Alyssa Temel – A1
Ersa Bemelmans – A2
Azra Alatepe – A2
Castor Timmermans – A2
Lies Hodes – B
2015
Tom Noorhof – A1
Jens van Putten – A1
Lies Hodes – A2
Castor Timmermans – A2
2014
Lies Hodes – A1
Anne Marijke Kramer – A2
Dion Latten – B
Lex Houtermans – C
2013
Milan Merckelbagh – A1
Marie-Hélène Amory – A2
Lex Houtermans – B
2012
Marie-Hélène Amory – A1
Kelly Pötgens – A1